My daughter made this dress for herself for Easter.
She used a yellow cotton and Simplicity Pattern 1877 (found HERE.) It is a Leanne Marshall design. The pattern ran true to size. No fitting alterations were needed.
The dress went together without a hitch. The darts were easy. The point on the bodice worked easily because the center seam was not stitched completely down, allowing for an easy pivot.
The neckline and armholes were simple with a self binding. Then a stitch in the ditch to secure meant no hand sewing.
Invisible zippers are actually easier to sew in than lapped or centered zipper applications.
The only design change she made was to remove the side seam flounces. The dress is designed with six flounces. The flounces in the side seams made the dress look way to "hippy" so my daughter removed them.
A word of warning if you are going to make this dress. It is made to be short. There is only a small hem allowance. If you want it longer, make adjustments before cutting. The flounce begins at the bodice seam and ends at the hem. If you are going to lengthen the dress, you will either need to make the flounce differently or have it start lower, or know that it will end above the hem. I would have it end above the hem.

Happy Easter!
I have also entered this Vintage Vogue dress:
in the Sew-vivor competition. Wish me luck!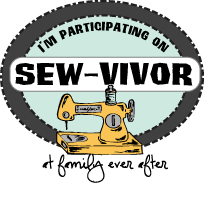 See more sewing ideas on Pinterest.
Linking to: